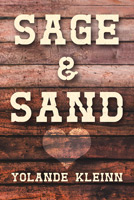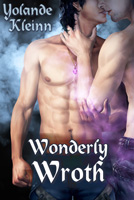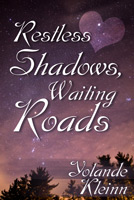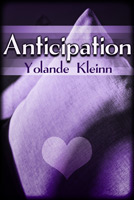 Matters of Heart
LT3 / Amazon / Apple / B&N / Kobo / Smashwords

M/M, Contemporary Romance
[49 Pages / 15,000 Words]

Marco Spinelli has made Spinelli Medical Technologies an international power house; but there's no way he could have done it without Adam Callaghan, his best friend and resident entrepreneurial genius. Together they've spent years making their dream a reality.

Marco can't imagine life without Adam at his side, exactly like this—until a gala and an unexpected encounter make him realize he wants something more. Now he must repair a rift he never intended to cause, before he loses Adam for good.
- - - - -
Sage and Sand
Amazon / Apple / B&N / Kobo / Smashwords

M/M, Historical, Western, Erotica
[29 Pages / 8,000 Words]

Marshall Maddox is no one's hero. Right place, right time, that's all this is.

Bram Caldwell sure as hell didn't expect to need rescuing. But if Marshall wants to stick around after the gunfire fades, Bram's not going to complain.
- - - - -
Wonderly Wroth
Amazon / Apple / B&N / Kobo / Smashwords

M/M, Fantasy, Erotic Romance
[36 Pages / 8,100 Words]

Arthur knows he is destined to die at Camlann. But when the Lady Merlin enlists a powerful enchantment to save him—an enchantment to tether Arthur's life to Lancelot's—the magic carries unintended consequences. Lancelot's strength could be Arthur's salvation, but what of the deeper connection that now binds the king to his most loyal knight? The connection is only temporary, but when Arthur learns the truth of Lancelot's feelings for him, their friendship could change forever.
- - - - -
Restless Shadows, Waiting Roads
LT3 Press / Amazon / Apple / B&N / Kobo / Smashwords

M/M, Paranormal, Urban Fantasy
[40 Pages/ 14,000 Words]

As a child, Caleb was helplessly drawn to the woods behind his family's house—a deep forest that became a friend, a sharer of secrets, even a protector. On the night Caleb was stranded by a blizzard, a mysterious figure saved his life and kept him from harm.

But all too soon his family moved away, and Caleb set the mysterious stranger aside as a figment of his imagination. Now, more than fifteen years later, Caleb returns to the woods he left behind and encounters a familiar face...
- - - - -
By Hand and Heart
Amazon / Apple / B&N / Kobo / Smashwords

M/M, Contemporary Romance, Magical Elements
[19 Pages / 4,400 Words]

Luis Pygmalion does not usually take commissions. But when offered an intriguing challenge—to sculpt the most beautiful person he can imagine—he can't resist. There's only one problem: the image he conjures is too real, and Luis finds himself falling for a man who exists only in his dreams.

As his masterpiece nears completion, Luis faces a difficult decision. Will he fulfill his contract, or follow his own confused and irrational heart?
- - - - -
Especially at Christmas
Amazon / Apple / B&N / Kobo / Smashwords

M/M, Contemporary, Erotic Romance
[20 Pages / 5,500 Words]

For the first time in five years, Andrew is single at Christmas.

At least he's not spending the holidays alone: his roommate is here to share the ups and downs of the season. Jake may be out of Andrew's league, but they make a good team. Then Jake kisses him in the middle of a noisy Christmas party, and changes all the rules.

Andrew doesn't believe in Christmas miracles. But maybe, just this once, he can make an exception.


- - - - -
Anticipation
Amazon / Apple / B&N / Kobo / Smashwords

M/M, Contemporary, Erotic Romance
[22 Pages / 6,800 Words]

Jason may be a lot of things (stubborn, arrogant, occasionally oblivious), but he's got no delusions about his hopeless and long-secret infatuation with his best friend. The night he tells Max the truth, Jason worries his confession will ruin everything.

But he should know better than to underestimate Max. Maybe his crush isn't so hopeless after all.


- - - - -