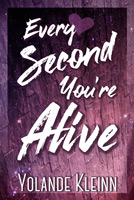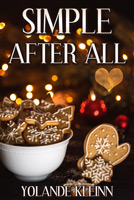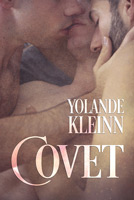 Every Second You're Alive
Paperback / AMZ / Apple / BN / Kobo / SW / All Buy Links

M/M, Post-Apocalyptic, Science Fiction, Romance
[64 Pages / 20,000 Words]

Major Franklin Cade has spent years fighting the undead scourge that drove humanity from Earth. Now victory is in sight, but it's come at immeasurable cost. He has sacrificed everything in the line of duty—even his own heart.

For six months Lieutenant Daniel Mendoza has been missing in action. Only stubbornness and a refusal to tarnish Mendoza's memory have kept Franklin alive since losing the man he wouldn't admit he loved.

When a perilous rescue needs volunteers, he returns to the canyon where Mendoza fell. He is not prepared for the hope that ignites as he follows a fading distress signal across infested terrain. In the shadow of a deadly countdown every second is precious, but Franklin refuses to lose Mendoza again.


- - - - -
An Intimate Charade
AMZ / Apple / BN / Kobo / SW / All Buy Links

M/M, Science Fiction, Romance
[187 Pages / 60,000 Words]

Cargo ship captain Galin Odona is in desperate need of a contract. When a lucrative opportunity comes his way, he invites Addison Valdez—smart, stubborn, and the only Human member of his crew—to join the negotiation.

Anatoria Baell's contract is not precisely legal, and she has unconventional methods for choosing where to put her trust. Galin agrees to pose as a distant relation during a gathering at her private estate. The negotiation takes a complicated turn when Addison proclaims that Galin is not only his captain, but his mate. The hot-headed lie puts them in a tough spot, maintaining their charade for the duration.

But Galin is a terrible liar. Even worse, he's been in love with Addison for years. Now, through tight quarters and an illusion of intimacy, he must win the contract without giving himself away. The task seems monumental, but Galin cannot afford to fail.
- - - - -
Ashes on a Distant Wind
Paperback / AMZ / Apple / BN / Kobo / SW / All Buy Links

M/M, Post-Apocalypse, Sci-Fi, Romance
[55 Pages / 18,500 Words]

Before the Vrete came to Earth, Donovan Riggs was a man of faith. Now they're gone, and he's left that part of himself behind for good. In the ruinous aftermath of a war nobody won, he is simply trying to survive. With Beau Greer—a young medic who stumbled into his life and then refused to leave—Riggs travels dangerous roads between long-dead cities. Scavenging doesn't offer much of a future. It barely provides for the present. But Riggs will do anything to protect what's his.


- - - - -
Open Skies
AMZ / Apple / BN / Kobo / SW / All Buy Links

Asexual, Aromantic, Science Fiction, Adventure
[114 Pages / 39,000 Words]

After seven years working as partners, Kai and Ilsa are the best professional finders in the business. There's nothing they can't track down, no matter how unfamiliar the star system or hazardous the path. When a new client insists on accompanying the search for his daughter, Ilsa and Kai reluctantly agree. How can they refuse when Eleazar Dantes is desperate enough to pay double their usual fee?

But a high-stakes investigation is no time for distractions. Even more troublesome, when Kai realizes his true feelings for Ilsa, his timing couldn't be worse. Never mind that she doesn't seem to reciprocate: heartbreak is the least of their problems as the trail they're following grows dangerous.

With every step forward, Kai and Ilsa are more certain they won't find Eleazar's missing daughter alive.

- - - - -
Simple After All
AMZ / Apple / BN / Kobo / SW / All Buy Links

M/M, Contemporary, Holiday Romance
[53 Pages / 17,000 Words]

Noah Fiore, contracts attorney and dedicated curmudgeon, spends every Christmas with his family on the shore of Lake Superior. It's practically tradition for his sister to invite some lonely acquaintance along for the festivities.

But this year's guest is no pity case. Riley Coto is a friend, whose warmth and charm instantly win over the collective hearts of the Fiore family—all except Noah, who remains as dour and unapproachable as ever.

Riley finds himself inexplicably drawn to Noah. Something tells him there's more to the man than stubborn work ethic and bad attitude. With Christmas fast approaching, Riley is falling for Noah, and there's nothing simple about that.


- - - - -
Covet
Forward INDIES Winner 2017
AMZ / Apple / BN / Kobo / SW

M/M/M, Contemporary, Erotic Romance
[268 Pages / 71,000 Words]

Jack Mason—graphic designer and unrepentant player—has never been interested in monogamy. He certainly isn't looking for romance when he meets Professor Colin Sloan.

Newly single and not looking for anything serious, Colin is intrigued by Jack's offer of a physical affair with no strings attached. Becoming friends wasn't part of the plan, but as accidents go, this one's pretty great.

Peter Mason is Jack's identical twin. In a long-term relationship himself, Peter tells no one that he's falling for his brother's newest favorite, even as the secret creates tension with his girlfriend.

When Peter's relationship falls apart, he seduces Colin, fully expecting Jack to forgive his transgression. But Jack is keeping secrets too—he hasn't told even Colin that he's fallen in love. Suddenly the twins are feuding, and Colin is caught in the middle, blindsided by the revelation that he doesn't want to choose between them.

Now all three must find a way to share, or they'll tear each other apart.
- - - - -
Something Borrowed
AMZ / Apple / BN / Kobo / SW / NineStar Press

M/M, Contemporary Romance, Fake Relationship
[81 Pages / 19,300 Words]

When public defender Trevor Ortega finds himself dateless for his ex's wedding, faking a relationship seems like the perfect solution. Less perfect is his thoughtless impulse to invite Sebastian Greer—friend, federal judge, and former boss—as his plus one. It would be a solid plan if not for one problem: Trevor's been in love with Sebastian for years, and each fraudulent touch will remind him of everything he can't have.

Trevor doesn't know why Sebastian agreed to his scheme, but there's no backing out now. It's only one night after all, and what's a little heartbreak between friends?

- - - - -