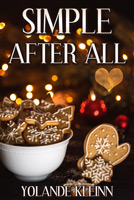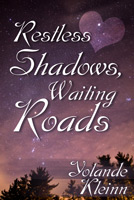 Matters of Heart
M/M, Contemporary Romance
[49 Pages / 15,000 Words]

Marco Spinelli has made Spinelli Medical Technologies an international power house; but there's no way he could have done it without Adam Callaghan, his best friend and resident entrepreneurial genius. Together they've spent years making their dream a reality.

Marco can't imagine life without Adam at his side, exactly like this—until a gala and an unexpected encounter make him realize he wants something more. Now he must repair a rift he never intended to cause, before he loses Adam for good.
- - - - -
Simple After All
M/M, Contemporary, Holiday Romance
[55 Pages / 17,400 Words]

Noah Fiore, contracts attorney and dedicated curmudgeon, spends every Christmas with his family on the shore of Lake Superior. It's practically tradition for his sister to invite a tragic tagalong to the festivities. But this year Kara's guest is no pity case. Riley Coto is a friend, and his warmth and charm quickly win over the Fiore family.

When Riley overhears Noah complaining about Kara's habit of bringing home strays for the holidays, he feels more than a little out of place. But Riley finds himself drawn to Noah. Something tells him there's more to the man than the bad attitude he shows the world. With Christmas coming fast, Riley is falling for Noah, and there's nothing simple about that.


- - - - -
Running Hot
M/M, Contemporary, Romance
[55 Pages / 17,000 Words]

Kurt Trench loves running a successful auto repair shop with his twin sister Lena. Lately loyal customer Shane Dolan has been coming around more often, and Kurt assumes it's because of his sister. While Kurt wouldn't dream of coming between them, he can't help being drawn to Shane himself.... Or thinking about him in ways he definitely shouldn't.

One night everything changes. Kurt doesn't reciprocate Shane's kiss—he's got no intention of stealing his sister's man—but when he tells Lena what happened, she can't believe how thick her brother is. She's not the reason Shane's been coming around the garage, and Kurt and Shane have more in common than a love of classic muscle cars. Now it's on Kurt to make the next move, assuming he hasn't blown his chance for good.


- - - - -
Open Skies
Asexual, Aromantic, Science Fiction, Adventure
[113 Pages / 40,000 Words]

Partners for seven years, Ilsa and Kai are the best Professional Finders in the business. There's nothing they can't track down, no matter how hazardous the path or unfamiliar the star system.

Eleazar Dantes isn't their first client searching for lost family, though he is the most unpleasant. For double their usual fee, Kai and Ilsa will tolerate a lot—even Dantes's insistence on tagging along. A high stakes hunt is no time for distractions, though. When Kai realizes his true feelings for Ilsa, his timing couldn't be worse.

Because as the trail they follow grows more dangerous, Kai and Ilsa begin to doubt they'll find Eleazar's missing daughter alive.


- - - - -
Ashes on a Distant Wind
M/M, Post-Apocalypse, Sci-Fi, Romance
[55 Pages / 18,000 Words]

Before the Vrete came to Earth, Donovan Riggs was a man of faith. By the time they were gone, he'd left that part of himself behind for good. In the aftermath of a war nobody won, humans live in a world they destroyed in order to keep it for themselves.

Riggs is simply trying to survive. With Beau Greer, a young medic who stumbled into his life and then refused to leave, Riggs travels dangerous roads between long-dead cities. Scavenging doesn't offer much of a future. It barely provides for the present. But Riggs will do anything to protect what's his.

When thieves threaten to massacre a nearby town, Riggs and Beau must make a difficult choice, even if it means putting themselves directly in the line of fire.


- - - - -
Restless Shadows, Waiting Roads
M/M, Paranormal, Urban Fantasy
[40 Pages/ 14,000 Words]

As a child, Caleb was helplessly drawn to the woods behind his family's house—a deep forest that became a friend, a sharer of secrets, even a protector. On the night Caleb was stranded by a blizzard, a mysterious figure saved his life and kept him from harm.

But all too soon his family moved away, and Caleb set the mysterious stranger aside as a figment of his imagination. Now, more than fifteen years later, Caleb returns to the woods he left behind and encounters a familiar face...
- - - - -