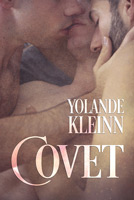 An Intimate Charade
Amazon / Apple / B&N / Kobo / Smashwords

M/M, Science Fiction, Romance
[187 Pages / 60,000 Words]

Cargo ship captain Galin Odona is in desperate need of a contract. When a lucrative opportunity comes his way, he invites Addison Valdez—smart, stubborn, and the only Human member of his crew—to join the negotiation.

Anatoria Baell's contract is not precisely legal, and she has unconventional methods for choosing where to put her trust. Galin agrees to pose as a distant relation during a gathering at her private estate. The negotiation takes a complicated turn when Addison proclaims that Galin is not only his captain, but his mate. The hot-headed lie puts them in a tough spot, maintaining their charade for the duration.

But Galin is a terrible liar. Even worse, he's been in love with Addison for years. Now, through tight quarters and an illusion of intimacy, he must win the contract without giving himself away. The task seems monumental, but Galin cannot afford to fail.
- - - - -
Covet
Forward INDIES Winner 2017
Amazon / Apple / B&N / Kobo / Smashwords

M/M/M, Contemporary, Erotic Romance
[268 Pages / 71,000 Words]

Jack Mason—graphic designer and unrepentant player—has never been interested in monogamy. He certainly isn't looking for romance when he meets Professor Colin Sloan.

Newly single and not looking for anything serious, Colin is intrigued by Jack's offer of a physical affair with no strings attached. Becoming friends wasn't part of the plan, but as accidents go, this one's pretty great.

Peter Mason is Jack's identical twin. In a long-term relationship himself, Peter tells no one that he's falling for his brother's newest favorite, even as the secret creates tension with his girlfriend.

When Peter's relationship falls apart, he seduces Colin, fully expecting Jack to forgive his transgression. But Jack is keeping secrets too—he hasn't told even Colin that he's fallen in love. Suddenly the twins are feuding, and Colin is caught in the middle, blindsided by the revelation that he doesn't want to choose between them.

Now all three must find a way to share, or they'll tear each other apart.
- - - - -